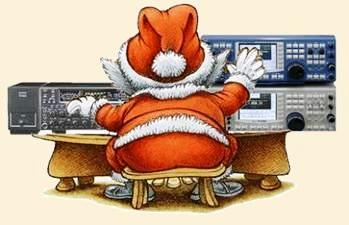 Merry Christmas everyone! Hope you find something shiny under the Christmas tree this year! Looking forward to working with all you during the upcoming year.
WVCARC Board
A Ham's Night Before Christmas
'Twas the night before Christmas,
And all through two-meters,
Not a signal was keying up
From the tower, quite high,
To catch the weak signals
That bounced from the sky.
The children, Tech-Pluses,
They'd be Extras, instead.
Mom put on her headphones,
When the meter was pegged
and, I swear, shook the tower.
Mom yanked off her phones,
And with all she could muster
Logged a spot of the signal
And the DX Packet Cluster,
While I ran to the window
And peered up at the sky,
To see what could generate
It was way in the distance,
But the moon made it gleam -
Who looked slightly mean.
So I thought for a moment,
That it might be Wayne Green.
On a mission, this Christmas,
Then stopped in his track,
And he slid down the coax
He cleared off the shack desk
And filled out all my late QSLs
Took a steel rod and pounded
The station was grounded.
He tightened loose fittings,
Installed lightning protection.
(Never worked right before-
Now it works like a champ).
He corrected the settings
And he backed up the hard drive
Then, he reached really deep
In the bag that he brought,
And he pulled out a big box.
(If he thought I'd been bad
Yes! The Ultimate Station!
How could I deserve this?
Could it be all those hours
That I worked Public Service?
And in record time, quickly
I should have been happy,
But the cards and the postage
Will cost two month's rent!
He made final adjustments,
And left a card by the key:
"To Gary, from Santa Claus.
Looked me straight in the eye,
Punched a code on the pad,
And was gone - no good-bye.
I ran back to the station,
Would be worth my new rig.
Oh, too late, for his final
The Ham's Santa exclaimed
(c)1996 Gary Pearce KN4AQ
Permission granted for any print
or electronic reproduction.